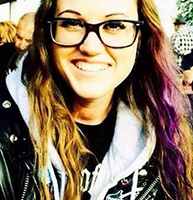 SHOP ONLINE: apeaceofamandawebbshop
Amanda Siljebratt – Leather Carftswoman from Pleasepleaseplease on Vimeo.
Amanda Siljebratt
I am a certified journeyman tailor and patternmaker. These highly specialized tools help me take the raw material of a beautiful fabric and realize a special and original garment. I express my best self through sewing, painting, and drawing. Fashion for me is so much more than just beautiful clothes. Fashion is a way to express personality, identity, and feelings.
Music for me is vital, and being able to combine my love of music with my creative process in garment construction is something I am extremely passionate about!
If you are a musician, you've come to the right place. Whether you are someone who wants to stand out from the crowd with theatrical costumes, or if you prefer a more laid back style and would rather blend in more with the stage, I'm the right person to work with!
In my role as a tailor I want to help to counter today's environmental problems concerning garment production. It is a waste of resources and leads to an unsustainable consumption to live in a dream world of "throwaway" products. In order to change this we need to invest more in sustainable fashion. My contribution to sustainability is creating flexible fashion with unisex garments that can be changed according to taste and the climate. Using fabrics of good quality is important to a garment that can last a lifetime. I want to draw attention to living a more environmentally friendly life through my creations.
See more in an interview on the Tillskärarakadamin website (in Swedish).
FOR PRICES AND DETAILS PLEASE CONTACT ME
PRESS
Video of making the wallet "Köpstadsö" for Please Please Please:
http://pleasepleaseplease.se/se-film-hur-planboken-blir-gjord
Making of an orangutang for Candy People's campaign against  palmoil together with mask artist Peter Holmgren: https://www.youtube.com/watch?v=eUNr6AWUV5A and https://www.youtube.com/watch?v=ok9ma3QI50U
Helsingborgs Dagblad:
http://hd.se/lokalt/helsingborg/2013/09/24/pimpa-plagget-pa-dunkers/
http://hd.se/noje/2012/05/10/de-designar-for-en-battre-miljo/
http://hd.se/kultur/2012/05/16/bengalisk-couture/
ASSIGNMENTS/NEWS
Working as Freelance Tailor at Theatres and Film projects
Working as a tailor at NK in Gothenburg 2015, and still
Temporary teacher in Textile Design Construction at Tillskärarakademin in Gotheburg 2014, and still
Sewing a smoking to the Oscars festivity in Hollywood for Lars Wallin 2014
Making of a copy of  Vivienne Westwoods dress from Chaos Point to an exhibition at Dunkers kulturhus, Helsingborg 2012, and in Nordens Hus in Reykjavik, Island 2013
Assistent to Bea Szenfeld with clothes for the artist Loreen in 2011
Filmproject with Carl Dieker and Bea Szenfeld to the Festival of Malmo 2009
Projects of haute couture and exhibitions in Sweden and Paris/France and at Kulturen in Lund  for the designer Bea Szenfeld, Stockholm 2009
PROJECTS
2013 Workshop in RumEtt at Dunkers kulturhus "Remake/Kom och Sy Om" in connection with the exhibition "Fashion Stories" by Lars Wallin.
2012 Exhibition and Fashion Show on the theme "Pressat mode – Hållbart mode" at Dunkers kulturhus
2011 Stage Costumes for the group "The Soundtrack Of Our Lives" with the combination of tailoring and experimental rock'n'roll style á la Jimmy Page.
2010 The Concept "BAROCK N' ROLL", with the combination of two worlds, the rough expression of rock music and the softness of the shapes of baroque.
2008 Copy of a 18th century shirt made of  linen for "Fredriksdals museer och trädgårdar" to a project about  Linné.
EDUCATION
2012 Tillskärarakademin, Gothenburg , Gesällbrev i herrskrädderi
2012 Kurs Freelance inom Scen och Musik, University of Gothenburg
2012 Color Theory, Textilhögskolan, Borås
2010 Tillskärarakademin, Gothenburg, Mönsterkonstruktion
INTERNSHIP
2011 Laura Didion, Skinn & Läder, Göteborg
2009 Designer Bea Szenfeld, Stockholm and Paris
Autumn 2008/spring 2009 Christina Anderson,  "Svenska Mönster", Malmö and Wish Collection
2008 The Store Freulein, Malmö with clothes designed by Julia Lillienthal Kehlet, and other designers
OTHER THINGS
One of the outfits of the collection Barock N' Roll was exhibited in an exhibition in the Centre "Arkaden",  Göteborg
Scholarship from the Teko Educational Funds, Robert A:son Byttners Fund.